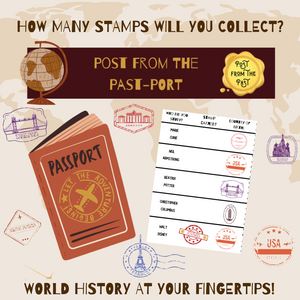 How many will you collect?!
We're thrilled to introduce you to the latest FREE download, the Post from the Past-Port!
Get ready to embark on a journey through history and create your very own mini passport to record your adventures!
.
Our Past-Port is packed with the names of all the fascinating historical figures we've written a post from the past letter from. It's the perfect way to keep track of how many incredible people you've studied, and with each person's place of birth marked with a stamp, you'll feel like a world traveler in no time.
.
But that's not all, the fun doesn't stop there! We've included "studied" images for you to cut out and glue next to the letters you've received and read so far. You can easily document your progress and look back on all the amazing figures you've learned about. And the best part? We'll keep adding names and pages to this passport for our future letters, so you can continue to expand your knowledge and fill your past-port with even more exciting stories.
.
Start your journey through history right away. Start filling your past-port today and let the adventure begin!