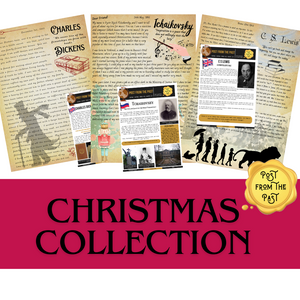 Immerse yourself in the spirit of the festive season with our Christmas Classics Collection. These beautifully curated letters feature three iconic figures whose works have become synonymous with the warmth and magic of Christmas: Charles Dickens, Pyotr Ilyich Tchaikovsky, and C.S. Lewis.
.
Charles Dickens Letter:
Journey back to Victorian England with a letter from the father of the Christmas novel, Charles Dickens. His heartfelt words will transport you to the cobbled streets of 19th-century London, evoking the timeless essence of 'A Christmas Carol'. Experience the yuletide joy and the spirit of transformation that has touched readers for generations.
.
Tchaikovsky Letter:
Dance into the enchanting world of 'The Nutcracker' with a letter from the legendary composer Pyotr Ilyich Tchaikovsky. This letter offers a glimpse into the creative process behind the composition that has become a holiday tradition in concert halls around the globe.
.
C.S. Lewis Letter:
Discover the magical realms of Narnia in a special letter from C.S. Lewis. His captivating words will remind you of the wonder and mystery of the holiday season, as seen through the eyes of Lucy, Edmund, Susan, and Peter. This letter is an invitation to revisit the land where it's always winter but never Christmas.
Each letter includes free worldwide shipping and comes complete with a newspaper article plus access to free printable activity sheets!